To the family of St Mary's;
Here we are again, in that time of the year when we start our stewardship campaign. For the last years we have been focusing in cutting all we can from our budget and to keep our church still alive. We have talked about how our numbers are almost half of our budget. That is very sad but at the same time it's our reality.
Don't get me wrong, I am not saying that we don't give enough. As I have mentioned it every time, I do think that you have been doing a great job. You have been very committed. Just to give you an example, by the end of this month, we would be receiving almost 100% of our pledges for this year.
This year, I will like to encourage you before you decide the amount you would be able to pledge to stop and dream. We have accomplished great things as a community this year. One of them, it's our mission statement "Love your Neighbor". In what ways we can accomplish this? What kind of programs should we offer as part of our mission? What should we be doing that we haven't?
One of my dreams is that each of us would be able to find a way to live and be part of the mission. Let's work for God's Kingdom, let's make a difference in our community. We are all committed to make as much as we can so we can designate more resources to work towards our mission.
Para la familia de Santa María;
Aquí estamos otra vez, es el tiempo del año en el que comenzamos la campaña de mayordomía. Los últimos años nos hemos enfocado en recortar todo lo que podemos en gastos y en mantener nuestra Iglesia viva. Hemos hablado de cómo nuestros ingresos son un poco mas de la mitad de nuestro presupuesto. Es muy triste pero a la vez es nuestra realidad.
No me mal interpreten, no estoy diciendo que no das lo suficiente. Como lo he mencionado cada vez que puedo, estoy convencido que han hecho un gran trabajo. Han mantenido su compromiso. Solo para dar un ejemplo, para finales de este mes, habremos recibido casi el 100% de las promesas de este año.
Este año, quiero invitarlos a que antes de decir la cantidad de dinero que puedes dar te detengas y suenes. Hemos tenido muchos logros durante este año. Uno de ellos fue redescubrir nuestra misión; "Ama a tu Prójimo". Como podemos alcanzar esto? Que tipo de programas deberíamos ofrecer? Que deberíamos estar haciendo que no hemos hecho?
Uno de mis sueños es que cada uno de nosotros encontremos las maneras para hacer vida nuestra misión. Trabajemos por el Reino de Dios, hagamos una diferencia en nuestra comunidad. Estamos comprometidos hacer lo posible para designar todos los recursos que podamos para trabajar en nuestra misión.
Padre Samuel Borbon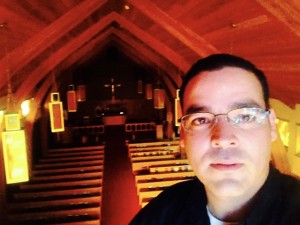 Reverend Samuel Borbon was born on December 21, 1978, in the city of Mexicali, Mexico. Went to the Seminary at the age of 14 and was part of a program called Seminario en Familia (Seminary at his Family). As soon as he finish High School he started studying a BA in Philosophy in the Seminary at Mexicali, Mexico. He continued his studies and completed a Master Degree in Divinity at the Seminary in Tijuana, Mexico.
He was ordain Priest for the Diocese of Fresno, CA on May 19, 2007. On November of 2013 he started working part-time as a vicar at St Michael and All Angels in Portland. He has been called to come and work as Priest in Charge for St Mary's starting April of 2015.
Padre Samuel
Nació el 21 de Diciembre, 1978 en Mexicali, Mexico. Entro al Seminario a las 14 anos en el programa "Seminario en Familia". Una vez que termino la preparatoria comenzó su licenciatura en Filosofía en el Seminario Diocesano de Mexicali. Continuo sus estudios de Teología los cuales termino en el Seminario Diocesano de Tijuana.
Se ordeno Sacerdote el 19 de Mayo, 2007. En Noviembre del 2013 comenzó a trabajar medio tiempo en la Iglesia de San Miguel y Todos los Angeles. Ahora a respondido al llamado de servir en la Iglesia de Sta Maria como el padre encargado partir del mes de Abril, 2015.